A Brilliant Season All Round
MONTHYNE 
On Friday MONTHYNE kicked off the 2018/19 season, being our first winner of the new campaign. William Tilley's chesnut was victorious in 2m4f Handicap Hurdle at Market Rasen. MONTHYNE was kept in touch by Richard Johnson who vied for the lead during the race until making headway before the run in. He battled well to fend off two powerful attempts by one Dan Skelton and one David Dennis recruit and showed true grit coupled with determination to get his head in front over the line. He seems to go well on the better ground and will therefore hopefully get another run in the coming weeks.
The 2017/18 National Hunt Season
This past season has been absolutely incredible. A lot of hard work has gone into everything at Warren Greatrex Racing and we have reaped the rewards for these efforts. Below are some of the highlights:
– 52 winners from 278 runners giving us a 19% strike rate.
– 45% of horses that did not win were placed in their races giving us 47 seconds, 34 thirds and 21 fourths.
– We scored two Grade 2's with LA BAGUE AU ROI and KEEPER HILL
– We claimed two listed hurdles also with LA BAGUE AU ROI and WESTERN RYDER
–MULCAHYS HILL put in an almighty effort in coming second in the Grade 1 Challow Hurdle at Newbury
– MISSED APPROACH won The Kim Muir Challenge Cup at The Cheltenham Festival
– Then PORTRUSH TED won The Grade 2 Champion Bumper at The Aintree Festival.
2017/2018 has certainly been a season to remember and one to be very thankful for. Our amazing owners have given us brilliant support throughout and none of it would be possible without them. We want to thank them once again for all they have given us this past season and we are so pleased that we have been able to enjoy such wonderful times with them, and that they have become great friends along the way.
Our next huge thank you is to our dedicated staff who have worked through thick and thin. This winter has been brutal, battling various beasts from all directions. Our management team have been working tirelessly to keep the show on the road: Olly with his support in all areas has lightened the loads; Ian and Trigger have been a great team and have ensured that the yard is kept at the highest standard possible; Taylor has overseen the travelling with meticulous planning and travelled thousands of miles, and always with a smile on her face; Amy, who joined us this year as Second Tavelling, has been a great addition to the team and been instrumental in getting horses around the country; Stacie has worked hard throughout and made sure the horses are fed in the correct way every day; Karen has organised all the goings on from the hub of the office and has been invaluable since day one; Claire has seen that our accounts are in order and controls the monetary side of things; Scott is much more behind the scenes, but his on-point race planning has enabled us to come out with the consistently strong results right up until the end of the season and the yard's new addition Dougie has moved us into the modern era with videos and internet presence and has been a good asset to the team. All of the yard staff, rider outers, farriers and vets have been phenomenal, keeping up the hard work and pushing us to better heights and we cannot thank them all enough.
Lastly we must say well done to our jockeys because of course all the horses need pilots and we have assembled a brilliant team of them. We are lucky enough to have the 2018 Gold Cup winning Champion Jockey, Richard Johnson at the helm and he has been a fantastic acquisition. Gavin Sheehan has had one of his best seasons to date and has worked hard with his head down throughout. Andrew Tinkler is an utter professional and a real team player. Adrian Heskin has given the McNeill colours some great times over the season. Harry Bannister has been there when needed and is still a crucial part of the squad. Our conditionals, Tom Greatrex and Ben Hicks have done very well and have learnt a lot this year and will continue to improve. Lastly our amateurs Adam Elias who showed real strength and rode his first winner, and Sam Waley-Cohen, who has had some amazing times on his father's mare THEATRE TERRITORY who is set for a big campaign in the 2018/2019 season. One amateur who is not part of our home team but gave us one of our biggest successes this year when winning the Kim Muir on MISSED APPROACH is Noel McParlan, who seems to gel with this horse better than anyone and we are very grateful to him for his loyalty to us.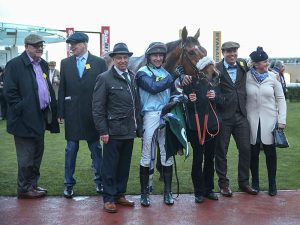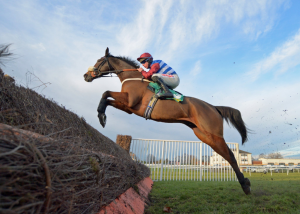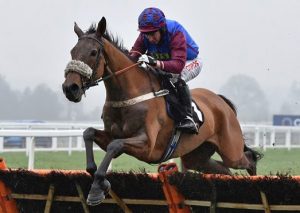 The Future
The new season has now begun and we have hit the ground running. We plan to keep driving forward and make each season better than the previous. We have assembled a good team of summer jumpers and some flat horses too. Not only have we already been victorious but we have also come very close on a number of occasions in the short space of time that the 2018/19 season has been going.
Looking ahead the Cheltenham and Doncaster sales are just around the corner and as always we will be looking there for possible future superstars. Tess's ability to buy nice horses for reasonable prices can be seen in our results. She will continue to buy for us and will undoubtedly pick up a lot of fantastic horses along the way.
We would also like to give a huge welcome our new yard sponsor Prodec Networks. With Greg Stone and Russ Barley as the driving forces behind the collaboration, they have committed to us for the coming season and will be an amazing asset. We are very much looking forward to this new partnership and it can only mean that there are better things to come.