7 Winners In 4 Days!
ROCK MY STYLE
To start off a sensational few days for Warren Greatrex racing, last Tuesday Alan and Andrew Turner's ROCK MY STYLE powered into the winner's enclosure at Hereford under Richard Johnson. This was the first win for him after hitting the crossbar three times last year in a bumper and two hurdles. During this maiden hurdle, they tracked the leaders until taking the lead three out. ROCK MY STYLE stayed on well and showed good stamina on the run into fend off the rest of the field. We will now look to run him again soon in another hurdle for this consistent horse.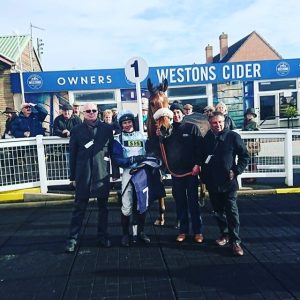 THE NIPPER
Next was the turn of THE NIPPER< in the Mares' Handicap Chase at Wincanton. The ground was heavy and she only had one rival to contend with, who was a nice horse of Anthony Honeyball's and the favourite in the betting. She put in an immaculate round of jumping under Gavin Sheehan letting TACENDA lead them until they took the running two out. This is her second win on the bounce this season. She was a lovely mare over hurdles and seems to be even better over fences. She may now look to level weights company with a rating of 130 and she will no doubt be able to hold her own in a classy field.
SAVOY COURT
SAVOY COURT made it a double on the day at Wincanton, again ridden by Gavin Sheehan, winning the 2m5f Handicap Hurdle and the second on the card. He is a very large horse who has always looked to be a chasing type, but was frustrating last season due to not picking a hurdle up on his novice campaign after winning a bumper in March the year before. He is a persistent galloper and loves his racing and it may have taken a while for him to grow into himself over obstacles, but we now have him bang on. He was ridden handily by Gavin, and took the lead around the last bend. He then galloped them into submission, winning by an eased ten lengths. There is no doubt a bright future for Tracy Brown's tank.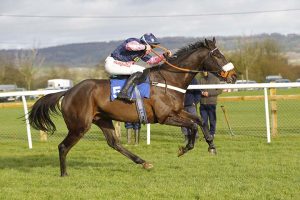 JAMMIN MASTERS 
On Friday JAMMIN MASTERS put in another gutsy performance slogging it home in some testing conditions at Chepstow. He is a horse that has shown us a lot at home, and with his old form in Point-to-Points and Hunter Chases, we have had high hopes for him. He was just beaten in his first start for us by a nice horse of Ben Pauling's in which both of them ran in a separate race to the rest of the field. We off the back of that knew however that he would be one for the future and therefore kept our faith in him. He made nearly all at Chepstow under Richard Johnson until he was challenged after two out by TRIXSTER. They battled it out up to the last when the competitor fell leaving JAMMIN MASTERS clear by 27 lengths of the pack. We know that he goes well in the wet and his chasing background would have very much helped him jumping the last. This all enabled him to come home victorious.
LA BAGUE AU ROI 
Then we move onto Saturday and one of our stars was on show. There is not a lot more to say about how fantastic this mare is, but only the fact that she seems to still be getting better. There was no blade of grass out of place after her impeccable run around Ascot in the Mares' Grade 2. She was ridden by Noel Fehily who kept her wide throughout to find the better ground and due to her staying power, the extra distance was never going to be an issue. She soon took the lead after the eighth and cruised home in complete control to win by 16 lengths. She is one of the horses you dream of training and her natural staying ability is something to marvel. We will now keep her quiet until March and make decisions with where and what closer to the time. One thing is for certain, whatever she does, she will make us and her owners Mrs Turner & Mr Merriam very proud.
BOITE 
The next of our three runners on Saturday was Tracy Brown's BOITE who came home in front in the 2m3f Handicap Hurdle at Taunton. He was steered by Gavin Sheehan who made all on the nifty little horse. He has been a bit of a dual purpose tool, and has run and won in a few flat races during his time with us. He started off life as a flat horse and we saw no reason why he wouldn't still be able to pick up some of those along the way. We know he can gallop so the tactic was to go for it and see if anyone could catch him. The answer to that question was 'no' and he ended up winning an eased 11 lengths. He was also a record breaker in doing so by being the first horse to win under the new wind operation declaration rule. This was the second win that week for one of our longest standing supporters, Tracy Brown, after SAVOY COURT hacked up at Wincanton. It is wonderful to get both of these for her in succession and we really are grateful for her commitment to us.
BRIANSTORM 
To top off a fantastic few days BRIANSTORM came up trumps winning the Novice Hurdle by an easy 31 lengths. Making the one hundred percent strike rate Saturday treble a combined total of 58 winning lengths! He was ridden again by Gavin who made it his second double for us that week. They tracked the leaders before moving to the front three out. This horse wastes no time in the air over his hurdles and has an incredibly quick turn of foot which enabled him to destroy the field 2m race. He will look to another Novice Hurdle under a penalty and should bring some more great times for the Firmagers.