MISSED APPROACH runs in The Becher
MISSED APPROACH 
Saturday saw the return of the Grand National fences at Aintree and one of our stars from last year, MISSED APPROACH, had his first crack at them. He was piloted by Aintree specialist Sam Waley-Cohen. Due to a recurring standing start they were left behind by about 15 lengths of the pack. The idea was for MISSED APPROACH to be closer to the pace but Sam did manage to coax him back through the field and to the front during the trip around the big fences. MISSED APPROACH however took to the challenge like a duck to water, winging the fences and putting in an immaculate round to finish sixth of a competitive field in spite of the extra efforts in making the ground back up from the start.
It was good preparation for the big race in April hopefully we will get a better start when it comes!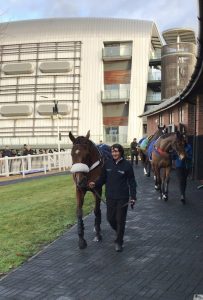 Babies On The Bowl
On Friday we got our youngsters out on the grass at Lambourn and galloped them around The Bowl. This process is fantastic for horses, teaching them what it is like to run on grass and to compete with each other in a group. It is a very similar exercise to a racecourse gallop and is brilliant that it is right on our doorstep.
Walwyn's Paddock
We also managed to get onto the grass schooling ground of Walwyn's Paddock and school a large portion of the yard. The weather was foul but it did mean the going was safe and it was great to get some practice in.