New Year And New Hopes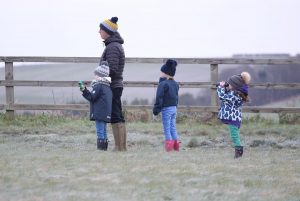 It was all hands on deck on Wednesday when Evie, Nell and Nancy join their dad on the gallops to watch the horses work up Kingsdown. It gave Nell a chance to try out the new binoculars she got for Christmas.
SCHOOLING
With the ground being so firm it is impossible to get horses schooling on grass. Luckily for us, we have the brilliant Lambourn facilities on our doorstep and are able to use the all-weather schooling strip at the top of the hill.
ONE TO WATCH