A New Year And The Work Continues
Schooling & Working Last Week
Thankfully we had no snow last week and therefore work can continue as normal. All of the horses have been able to get out every day and their work and schooling regimes have not be delayed. They are all in fine fettle. Below are some videos of them last week.
Horses For Sale
A few of our fantastic stores are still for sale. This really is the nicest bunch we have had to date and from what we have seen so far, will be very exciting prospects for the future. Below are videos of each of them.
Staff Profile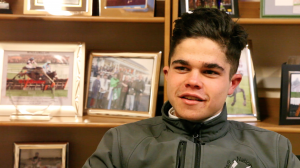 Scott Sainsbury
Age:
21
Nationality:
English (Mexican)
Role at WGR:
Racing Groom
Previous work before WGR:
Seamus Mullins and Andrew Balding
Hobbies outside of racing:
 Football and Golf
Favourite horse in the yard:
MULCAHYS HILL
Favourite horse in training:
SCOTLAND
Greatest racing moment:
ELM PARK
 winning the Racing Post Trophy.
What would be your dream job outside of racing: 
Footballer or in the Army
Favourite horse of all time:
DENMAN