PETTICOAT TAILS & ROCK MY STYLE
PETTICOAT TAILS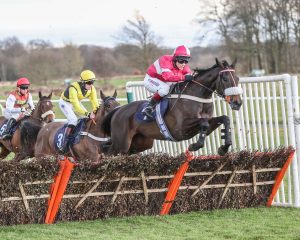 PETTICOAT TAILS put in an immaculate round of jumping and galloping to win up at Newcastle in the Mares' Novices' Hurdle over 2m4f. Richard Johnson kept her out of trouble by going wide and tracked the leaders throughout. She led before two out and finished in fine style still accelerating over the line. She has been a wonderful mare so far winning two bumpers and now two hurdles. She has also never been out of the top three in all seven of her starts including coming third in the bumper on the Thursday of the Aintree Festival last year.
This classy mare is out of PRESENTING (GB) ex THEATRE GIRL (GB) qualifying her for the NH MOPS Mare Owners' Prize Scheme.
"NH MOPS is confined to filly foals that were either bred in Great Britain or produced by British-domiciled stallions and that have been nominated as potential NH racehorses by their breeders (or owners in the case of foals that have already been sold). The filly foals born in 2012 were the first crop to be eligible for NH MOPS scheme (subject to successful registration). The requirements for nomination are detailed below. Income from registrations will be used to publicise and administer the scheme.
NH MOPS prizes are allocated with funds split between owner, trainer, jockey and stable staff. Since the majority of funding for the scheme is derived from the general prize money allocation of the HBLB, no prizes go to breeders. However, breeders are expected to benefit significantly from the higher prices realised by fillies eligible to NH MOPS and from MOPS prizes if they race their own stock"
This is a fantastic scheme for British-bred mares and is a brilliant incentive to buy and race them. PETTICOAT TAILS is reaping the benefits of this programme and will hopefully keep on doing so for her lucky owners' The Wynnstay Wanderers.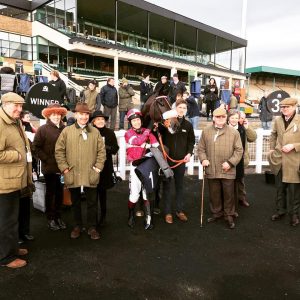 ROCK MY STYLE 
Last week at Chepstow ROCK MY STYLE won for the second consecutive time this season after coming back from his summer break. He was kept close up by Dickie in the 3m Novice Hurdle. He is a horse who has a lot of talent but needs a bit of encouragement. The Champion Jockey is the perfect man for this and kept the revs up for the entirety of the race until leading over the last and driving him home in staying fashion. ROCK MY STYLE and the second horse of Nick Mitchell's battled it out to the line but were clear from the rest of the field by 37 lengths in the end.
It is great to get two wins over obstacles for this horse who clearly has ability and hopefully there will be more to come for Alan & Andrew Turner.
Amy's Charity Race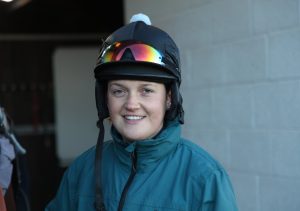 On Saturday 3 March our Assistant Travelling Head Girl, Amy Deans, will be riding in the Newbury Charity race. She is raising money for Greatwood which is a fantastic charity and she would be very grateful for any support. 
"I will be riding in the Greatwood Charity race at Newbury Racecourse. I will be riding over 1mile 4furlongs along with 11 other riders.
I worked for Oliver Sherwood for 6 years, then joined Warren Greatrex in September 2017.
It's always been a dream of mine to ride in a charity race, raising money for a great cause and getting the chance to ride in a race! I'm so excited I've been given this opportunity!
Greatwood is the only organisation to take ex-racehorses to educate children and young adults.
It is the only racehorse welfare charity who does not have criteria for entry nor turn away a horse at risk, in danger of neglect, or that is suffering.
Thank you for those who have taken the time to read this, and a massive thank you to those who have donated!"