PORTRUSH TED & BAILARICO
PORTRUSH TED 
The wonderful PORTRUSH TED made a sparkling debut over hurdles at Perth last week. He was piloted by Adrian Heskin and stormed home 17 lengths in front of the field in the 2m7f Novice Hurdle.
He is a legend of a horse who puts everything into his races. After his fantastic win in the Grade 2 bumper at The Aintree Festival, he cemented his place as one of the current stars of the yard. He is however quite fragile and therefore we have kept him in training to keep his fitness up and make sure he maintains his strength throughout. Due to his minor issues we swim him every day. This is an exercise which is so valuable to a lot of horses, keeping them in peak condition but also taking weight off of their body parts by being suspended in water. He loves it and reaps the benefits of this different style of training. We have been wanting to get a run into him over obstacles for a while now but we had to wait for the ground to soften up enough for him. The rain that came last weekend was the perfect opportunity and it worked. In the race, Adrian kept PORTRUSH TED in touch vying for the lead on occasion. They then took to the front after three out and finished with ease leaving the huge gap behind them to second.
He has come out of the race well and will continue his training in the pool. We will look to run him in another Novice Hurdle in a few weeks and then hopefully bigger and better things will come for this talented horse.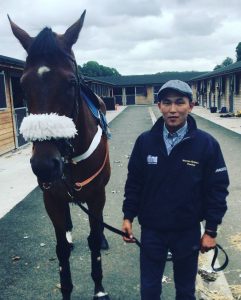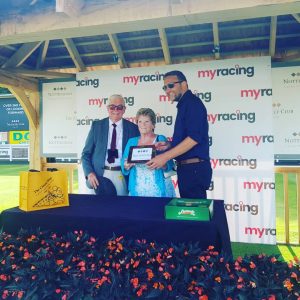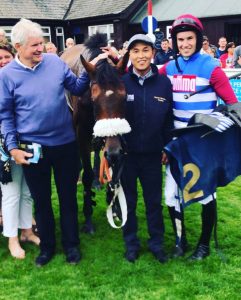 BAILARICO 
A few horses struggle to win even one race, but BAILARICO has managed to win five on the trot! Eight months ago, at the age of five, he won a Maiden point-to-point at Barbury Castle. He then moved to our yard and now can't get enough of winning. We deployed the usual tactics at Nottingham holding him up until around four furlongs out when Andrea Atzeni made a move for victory. BAILARICO obliged and ran on to notch another first onto his tally. Fitorfat Racing have had a brilliant year and long may the power of the red and blue colours continue!
BAILARICO has been schooling and jumps nicely so will hopefully go hurdling in time. However, since he is still going so well in this sphere we may try to nick another along the way.