Whatever It Takes
Whatever It Takes
Schooling Morning
There was more schooling this week on Friday when we got a lot of our hurdlers out to have a pop. The novice hurdlers are really coming along well and we can't wait for to get them onto the track and show everyone what they are made of.
The great photos below were taken by Denisa who works at
the yard.
Follow the link below the photos to go to our YouTube Channel and watch some of the schooling videos.
Horses in Training Brochure
This week saw the arrival of our 2017/18 Horses in Training Brochure. It is a 44-page glossy magazine with articles on Warren and Tess as well as the staff and the yard. It also has information on each of the horses here at Upper Lambourn. Many of these will be sent out individually but you can also pick one up if you visit the yard.
We would like to say a big thank you to our fantastic sponsors who advertised in the brochure.
THE CALLER
THE CALLER has left Uplands to go on to a different career. He has transferred from hurdling to Point-to-Pointing. He has been bought by Dougie Gittins, who is Media Manager at the yard, and is in training with Mary Vestey at Stowell Park. This is Mary's second season training herself. Last year she trained SILVER ROQUE  to win three out of three of his Point-to-Points. She will train him along with THE CALLER. Dougie enjoyed a fantastic year last year with an old favourite DOLATULO, finishing their season together by winning the 4-miler on The Hunter Chase Evening at Cheltenham. Unfortunately, Dougie then lost DOLATULO due to a freak accident in the field during the summer. THE CALLER has been acquired to fill the huge void left behind and Dougie is starting to build a good partnership with him before they take part in their first Point-to-Point next month. As you can see in the video below he has taken to chase fences very well and should relish his opportunities in the amateur field.
Staff Profile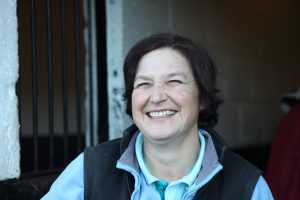 Fred Gandolfo
Age: 'd'!!
Nationality: British
Role at WGR: General Dogsbody
Previous work before WGR: David Gandolfo and Sylvester Kirk
Hobbies outside of racing: Watching most sports
Favourite horse in the yard: WESTERN RYDER
Favourite horse in training: ALTIOR
Greatest racing moment: GALES CAVELIER beating VIKING FLAGSHIP at Cheltenham
What would be your dream job outside of racing: Vet