The Winners Keep Coming
GREAT RETURN 
Last week the centre-piece of the newsletter was the wonderful partnership Fitorfat Racing's awesome foursome of horses we have in training. This week one of those four has showed his class and gave them a winner. GREAT RETURN is one of our flat horses and came to us this season. From his first four runs for us he has not been out of the top three and it has taken a few runs to figure out tactics with him. Ed Greatrex has ridden him the last three starts and figured out that after being held up he should kick for home in the last furlong. This worked to perfection in the 2m Handicap at Wolverhampton last week as he crossed the line seven lengths clear of the remainder. It is brilliant to get another win for this loyal partnership and hopefully there are lots more to come!
CEANN SIBHEAL 
Next to put in an impressive performance was The High Kites' CEANN SIBHEAL in the 3m Handicap Chase at Uttoxeter last week. He was kept up close by Harry Bannister vying for lead position. He jumped fantastically well in the testing conditions and winged four out ended up in front. Harry then pushed him on to take a commanding lead and finish first by 18 lengths. It is a very well deserved win for some more loyal owners with Bernard Panton and John Horgan who have dedicated a lot to our yard and we are thrilled that we can get another victory under their belt.
LOVENORMONEY 
Yesterday saw the third winner of the week from another fantastic owner, with Tim Syder's LOVENORMONEY. This time in the 3m Handicap Hurdle at Exeter. He is a nice horse that seems to love the softer ground so this weekend was ideal conditions for him. He was ridden by Richard Johnson who showed his strength and kept him up with the leaders throughout. The front four drew clear of the rest between the second last and the final hurdle. Then LOVENORMONEY and decent horse of Neil Mulholland's battled it out to the line.  LOVENORMONEY  responded to Dickie's asking and stayed on well to be clear by six lengths at the line.
That ended another successful week and hopefully the form will keep going through to April!
ONE TRACK MIND 
ONE TRACK MIND has been retired due to injury. We wish him the very best of luck with his new connections. A Grade 1 Punchestown winner, he has been a very special horse for us and deserves a happy retirement.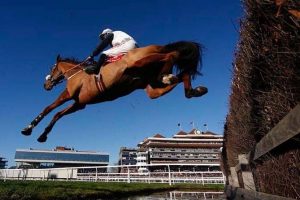 Sunny Morning
Spring is slowly approaching and everything is getting a little bit brighter. On Friday, Denisa joined us on the floor again to take some fantastic photographs of the horses and staff in work.