Crimson Ruby (GB)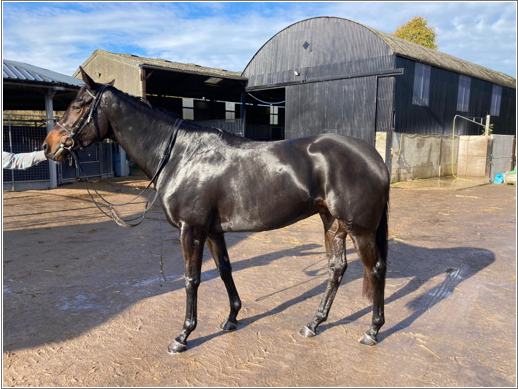 Crimson Ruby (GB)
2018 bay mare by Soldier of Fortune
ex Ruby Royale
SHARES AVAILABLE
Velocity Racing has enjoyed success on the Flat with Harry Dunlop and have decided to lease a mare for the forthcoming jumps season.  There are twenty shares available in a 4yo unnamed National Hunt mare by Soldier of Fortune bred by the late Robert Chugg and his wife Jackie at the renowned NH stud Little Lodge Farm in Worcestershire www.littlelodge-farm.com. This is a young exciting young family from one of their best pedigrees. The dam has already produced winners and expectations are high for this season.
To be trained by Warren Greatrex at Rhonehurst Stables, Upper Lambourn RG17 8QN www.wgreatrexracing.com the filly is ready to race in NH Flat races with a view to going hurdling.
Syndicate: Velocity Racing – a group of like-minded racing enthusiasts who also share a passion for cycling (not a necessary membership requirement).
Shares: 20 shares of leased horse to inc. visits to the yard & gallops, race day badges, stud visit, cycling trips (winter weather permitting),
Cost: one off payment £625 November 2022– May 2023
For more information: Harry Dunlop / 07880 791 895/ Harrydunlop76@gmail.com
LOREM
LOREM
LOREM
LOREM
0000
0000
LOREM
0000
0000
LOREM
LOREM
0000
0000
LOREM
0000
0000
LOREM
LOREM
LOREM
0000
0000
LOREM
0000
0000
LOREM
LOREM
0000
0000
LOREM
0000