ROCCOWITHLOVE Wins At Newbury

GANGSTER and Stacie at Sedgefield yesterday.
ROCCOWITHLOVE 
ROCCOWITHLOVE won the Greenham Trust Handicap Hurdle at Newbury on 28th February. This was the 6-year-old gelding's third run for his owners Crimbourne Bloodstock but most notably his first ever victory. Running over three miles ROCCOWITHLOVE seemed to make easy work of ground that was confirmed as being soft (heavy in places) and under jockey Richard Johnson, who had only returned to the track just the day before having suffered an injury, he went on to beat BALLYMAGROARTY BOY into second by four and a half lengths who in turn finished 14 lengths ahead of third placed MISTER MURCHAN.
ROCCOWITHLOVE settled into a nice position in the middle of the 10-strong field for the first half of the race, where he seemed to establish a steady rhythm. On hitting the half way marker, Richard Johnson squeezed him up to the front of the pack and it was here he stayed for the remainder of the race. He continued to jump very well for the majority and finished incredibly strongly, coming up to the line with plenty in the tank, which was great for us to see.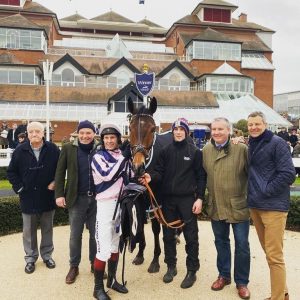 Gag Of The Week
Jimmy Bullard in Upper Lambourn