A FANTASTIC WEEK!
A DOUBLE AT CATTERICK!!!
What a fantastic trip we had up to Catterick last Wednesday, where we gained our first double of the season!
The day started with Bolsover Bill in the Conditional Jockeys' Handicap Chase over 2m 3f, ridden by our very own Dylan Kitts (10). Dylan gave him a lovely ride from the front, and barely saw another rival, his jumping got them all under pressure and he and Dylan cruised home by 9 lengths!
It is great to see Bolsover Bill have back-to-back wins, he has been with us since a store horse and he seems to really found his groove now over fences and he will surely go from strength to strength now. His owners Jim and Claire Bryce had made the long journey up to Catterick, and it is great to see them with another win on the board.
Also a huge well done to Dylan, for who this was his 5th winner, meaning he has now lost his 10lb claim and is down to 7lbs. Dylan works really hard both on the yard and in the gym and it is great to see it all paying off for him!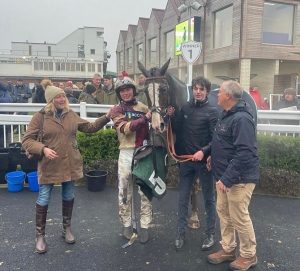 Our next runner on the day was Pilot Show, a big horse with a big engine who has been a bit below par so far this season. 
It was first time over fences under rules for Pilot Show, who had previously won a Point-to-point before Warren and Tessa bought him from the sales.
The switch to the bigger obstacles certainly seemed to spark Pilot Show's interest, and he put in an (almost) impeccable round of jumping under jockey James Bowen, and traveled strongly up until the third-last fence, where he seemed to fade a little bit and was headed by Sue Smith's horse Myberg. His race then seemed to be over when he made a mess of the second-last fence whilst his rival winged it. However, Pilot Show and James popped the last fence, and then loomed up out of the mist to absolutely fly up the run in, and win by 1 and a quarter lengths going away!
It really was a hugely exciting race finish, and gave Jim and Claire, of Eynon, Bryce & Rowley something to cheer about as they found themselves in the winners enclosure for the second time that day! Lots to look forward to with this horse.
BILL BAXTER WINS AGAIN!!!
Thursday saw Bill Baxter head up all the way up to Kelso Races to run in the Novices' Limited Handicap Chase over 2m 6f, in the hope of backing up his last win; and Bill Baxter and James Bowen did not disappoint!!!
James and Bill Baxter traveled strongly in touch with the leaders, jumping beautifully the whole way round before taking up the lead on the run-in after the last and win by 1 and a half lengths.
This little horse is so tough, and a real yard favourite; Warren rides him out himself everyday and it is great to see him going from strength to strength. Well done to his owners Adrian and Marie of Glassex Holdings Ltd.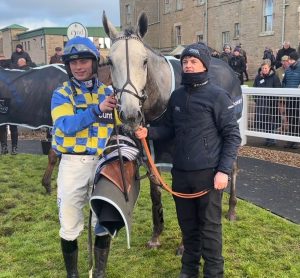 PLEASING PERFORMANCES
It is not just the winners who are running well; there have been many horses running well in defeat this week who we must not forget to mention!
Line Of Descent made his debut over fences up at Catterick also, he jumped impeccably under James Bowen, and for a moment we thought there would be a treble on the card, but it wasn't to be and Line Of Descent finished a very creditable second for Jim and Claire Bryce. It is great to see an ex- flat horse take so naturally to the larger obstacles and there is surely much to look forward to with him.
Bold Soldier ran yet another big race, this time at Uttoxeter in the Maiden Hurdle under Sean Quinlan. He finished second for the second time this season, only beaten 1 and three-quarter lengths, and it won't be long before he gets his head in front for owners Alan and Andrew Turner.
We then started 2023 with 2 fantastic runs by Militaire and Abuffalosoldier at Cheltenham on New Years Day. Militaire is a big raw horse who ran in the Ballymore Maiden Hurdle and finished 3rd under James Bowen for owners Jim and Claire Bryce.
Abuffalosoldier is hugely progressive and ran exuberantly in the Paddy Power Handicap Hurdle and also finished 3rd under Brendan Powell for his owners Mahler and The Wailers.
It is great to see the horses in such good form, and as the saying goes- long may it continue!!!