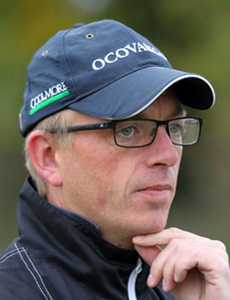 Born 22nd February 1975 in Norwich.
Warren is the youngest son of Julian (farmer) and Val Greatrex (teacher). He was brought up on Dartmoor and attended The Spooner & West Dartmoor Pony Club. Warren also played county rugby, cricket and hockey. After A-Levels, decided against university and started work for David 'The Duke' Nicholson.
He worked and rode for Josh Gifford, Lady Herries and David Gandolfo where he rode 13 winners. Then Warren worked as Head Lad for Bryan Smart until he moved to Thirsk. After a period riding out for Jamie Osborne he was approached by Oliver Sherwood who he was with for 9 years. He also gained experience during the holiday periods working for Michael Hourigan, Sean Woods and Guillaume Macaire in France.
He was head hunted by Mr Malcolm Denmark to train at Weathercock House, which he did for three seasons before deciding to leave and start up at Uplands with 15 horses in 2012.
Warren has twins Tom and Ed along with Evie, Nell and Nancy .
Warren enjoys all sports and is a keen Spurs fan and enjoys playing golf when he gets the time.
Approach to training
Having spent my entire working life in training yards and been fortunate enough to have worked for many exceptional trainers. I have developed a disciplined approach to training, based on a wealth of experience, learning from others and over the 13 years since I joined the training ranks. Such an approach is vital, not only because it prevents complacency creeping in when things are going well, but it provides reassurance when results aren't quite going our way!
I believe passionately in a patient approach to training horses. Bringing them on gradually, developing their confidence, ensuring that they are happy and enjoying life are all fundamental to ensuring that horses are able reach their full potential. Many a promising horse has been ruined by an impatient trainer.
My eyes and ears, along with those of my superb team, are my greatest assets. I place great store by listening to all those around me; staff, vets, jockeys, farriers and owners. This crucial input, coupled with what I see in a horse at work and at rest, enable me to form an accurate impression of the wellbeing and fitness of a horse. All this information is complemented by the science of regular weighing of horses, analysis of their blood and tracheal washes. All this enables me to have a clear picture f when to press on with a horse or, equally, when a dab on the brakes is needed.
I would be remiss not to mention the superb yard that I have at my disposal at Rhonehurst. With huge help from Jim & Claire Bryce, we have done a great deal of work since I moved here to improve the facilities that I inherited and to add valuable new features. The result is a National Hunt yard that is envied by many and surpassed by none.
In summary, I believe in happy and healthy horses, who enjoy what they do and have every possible assistance to ensure that they achieve the maximum of which they are capable. I have the experience, I have the team, I have the facilities. I have every confidence that I can deliver excellent results for my owners and their horses.