LOOSE SCHOOLING & NORMAN THE SHETLAND
LOOSE SCHOOLING
We have been getting busier with runners over the last week, and it has been great to see them all running and jumping well.
As we know, good jumping technique is developed at home and so at the moment we are loose schooling a lot of the horses during evening stables, all the way from Bumper Horses right up to the Handicap Chasers! The horses all love the variety of work, and really enjoy kicking up their heels round the Loose Jump Lane whilst honing their jump technique and ability to judge striding on their own.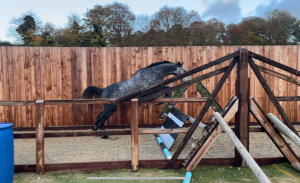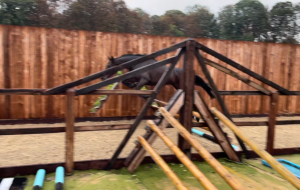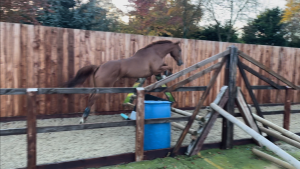 NORMAN THE SHETLAND
Many of you will have met Norman The Shetland when visiting Rhonehurst over the past year. He is being trained up by the Greatrex girls to run in the Shetland Grand National, and had his first run at Moreton Show this summer, ridden by Evie.
When he is not in training, Norman can also be seen travelling the country with some of our runners to keep them company on the lorry. He has recently been to Aintree, Stratford and most recently to Carlisle for an overnight trip with Bill Baxter. A pony of many talents and hopefully soon we will be able to announce that Norman too, is a winner!