THE HORSES ARE RUNNING WELL
The Horses Are Running Well
Friday and Saturday saw Mise Raftaire and Bolsover Bill respectively run fantastic races in defeat at Fontwell.
Mise Raftaire has not been with us very long, and he put in a sterling effort from pillar to post to finish 3rd in the 2m 3f Handicap Hurdle. He is a horse we are still getting to know, and who has performed better with each run for us. I am sure there is still plenty to come from him!
Bolsover Bill  has been with us since a store horse and has always shown a lot of ability at home, which he has put to good use on the track to win over hurdles for us. He has now stepped up to the big fences, and taken to them really well. He ran a huge race in the 2m 3f Handicap Chase and was really unlucky to finish second after being caught just on the line.
Although it is frustrating to be the bridesmaid in both these instances, it is great to know the horses are feeling and performing well. It won't be long until they start getting their heads in front!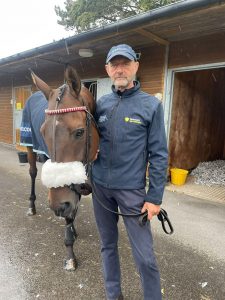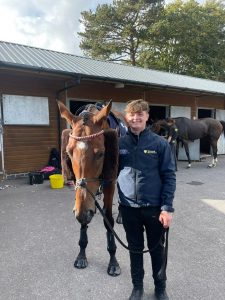 Schooling In The Arena
Last week saw us school a lot of the 4 year olds in the arena over poles, barrels and hurdles. Although most of these will be looking to run in a Bumper first, it is really important to perfect their jumping technique for the future. Schooling first over poles, then barrels, and finally hurdles, helps the horses grow in confidence and really enjoy the experience. This bunch are showing plenty of scope and we have much to look forward to with them.