ART OF ILLUSION MAKES IT A HAT TRICK OVER FENCES & NELL RIDES HER FIRST WINNER!
ART OF ILLUSION WINS AGAIN!
ART OF ILLUSION made it a HAT TRICK of wins this season, when he headed to Warwick Racecourse last Wednesday to run in the Macmillan Cancer Support Handicap Chase over 3 m 1f. Our ever-improving Conditional Jockey Dylan Kitts (7) took the ride, and Art Of Illusion put in his usual spectacular round of jumping, which saw all his rivals come under pressure one-by-one, until it was only Art Of Illusion and Good Work of Oliver Greenall's in contention when rounding the home bend. The two horses had a bit of a tussle on the run-in, but Art Of Illusion kept on really well to come out on top and win by 1 and three quarter lengths.
This horse really has been a revelation since going over fences, and it is great to see him going from strength to strength. Congratulations again to his owner Alex Pegley who adores this horse, and to Beth, who looks after and rides Art Of Illusion every day!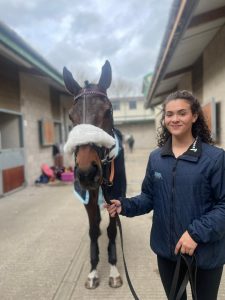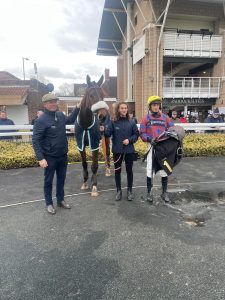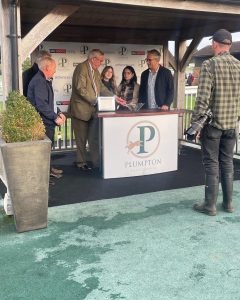 NELL RIDES HER FIRST WINNER!
We promised last week to keep you updated on the Greatrex Girls' Pony Racing Ventures, and what better update than to let you know that Nell rode her first winner yesterday!!!
This time the whole family headed down to Milborne St Andrew Point-to-Point course, where Nell rode Longthwaite Waterlily to success in the 128cm Open Pony Race. With experience under her belt this time, Nell rode a lovely patient race and picked off all her competitors one-by-one, taking up the lead in the home straight and bounding clear to win by 3 lengths!
It is so great to see Nell reaping the rewards of all the girls' hard work in  the saddle, and they are really lucky to have such a willing partner in Lily. Here's hoping Evie gets her win on her next ride too, for politics sake, apart from anything else!!!